Bioneedles are small, biodegradable needles that can be pre-filled with vaccines or other high potency medicines. After pain-free subcutaneous or intramuscular delivery, the Bioneedle dissolves within minutes and releases the vaccine. Vaccines formulated in Bioneedles become thermostable, eliminating the need for cold chain transport and storage.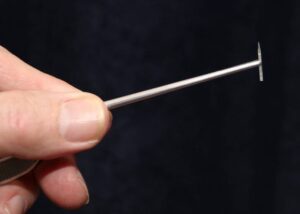 Bioneedle offers the best tool in the playbook of Emergent Pandemic Preparedness, for battling the CORONA pandemic and for getting ready to battle the inevitable future pandemics.
Pandemics need vaccines, but the containment and control of the pandemic depends on the logistics behind the vaccination roll-out. Bioneedle is vaccination logistics by excellence, allowing to contain pandemics rapidly as no other technology.
Bioneedle Drug Delivery is committed to protecting people against contagious diseases by making vaccinations easier, safer, faster, cheaper and more equitable.